The four-player star-studded slam fest can be yours for 200 coins!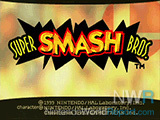 The 1999 N64 classic, Super Smash Bros., can now be purchased as a reward on Club Nintendo for play on the Wii Virtual Console. Club Nintendo members can download the title for 200 coins. Those that aren't club members can still buy Super Smash Bros. off the Wii Shop Channel for 1,000 Wii Points.

Super Smash Bros. replaces NES Play Action Football as a reward and will be available until September 16, 2012. Anyone that decides to download Super Smash Bros. on their Wii should also remember that the game requires either a GameCube or Classic Controller to be played.

Super Smash Bros. is highly regarded as one of the greatest multiplayer games on the N64. It was also the start of the series and has currently spawned two sequels, Super Smash Bros. Melee (GameCube) and Super Smash Bros. Brawl (Wii). Two more titles in the series are currently in development for the 3DS and Wii U respectively.
The Game Boy version of Tennis is also redeemable as a Club Nintendo reward for 3DS owners. Tennis will be replaced with another game on September 9, 2012.