With the Mark of Mastery edition included, the latest game in the Disney themed series has sold 200,000 units.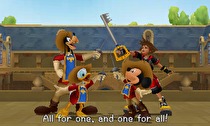 Kingdom Hearts: Dream Drop Distance has managed to sell 200,000 units in North America.
While the official numbers by Nintendo put the game at 180,000 units by itself, once the Mark of Mastery edition units are included into the final tally, the game places itself at the 200,000 unit mark.
The game was released on July 31, 2012 and is the eighth entry in Square Enix's long running series. Starring Sora and Riku, the pair set out to wake up worlds which have fallen into a deep sleep. Some of the worlds included are levels based on The Hunchback of Notre Dame and TRON: Legacy. You can read our review of the North American version here.