Square Enix is set to spill the beans on the Wii U version in just a few weeks!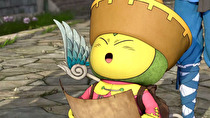 New information about the Wii U version of Dragon Quest X: Mezameshi Itsutsu no Shuzoku will be revealed at the upcoming Tokyo Game Show, Square Enix revealed in a recent press release detailing their game lineup for the show.
A variety of stage events are planned for the recently released Wii version of the title as well as this new information. No specific details were given. Tokyo Game Show 2012 is held in Japan at Makuhari Messe located in Chiba prefecture and takes place from September 20 through September 23.
For more information about the Wii version of Dragon Quest X, check out our latest set of impressions.