Layton creators bring the 3DS some love.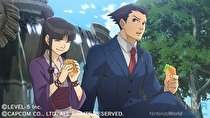 With the 2012 Tokyo Game Show less than a month away, Level-5 has unveiled what games they will be bringing for the attending press and public. Also, for the Professor Layton in all of us, Level-5 has two mystery titles listed with just a question mark. It is speculated that these will be two new announcements for the show.
Playable at Level-5's booth is the much anticipated Professor Layton vs. Ace Attorney, marking the event as only the second time the title has been demoed since its announcement in 2010. Demos will also be available for 3DS titles Fantasy Life, Inazuma Eleven Go 2, and the recently announced sixth Professor Layton title. Inazuma Eleven 1,2,3, an enhanced 3DS port of the first three DS titles, will only be available in video.
While the two secret titles are unknown, it is speculated that they could be either Guild 02 or Yokai Watch. Only three of Guild 02's four games have been revealed and Yokai Watch has not been announced for any particular console or handheld device.
Tokyo Game Show 2012 is scheduled to take place from September 20-23.