Race through tunnels, collect eggs, and tap along to classic Final Fantasy music in this week's crop of downloads.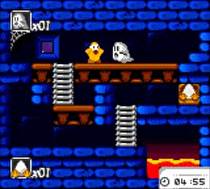 This week's Nintendo Downloads brings some of everything, from 3DS eShop titles to Virtual Console to DSiWare and a demo.
3DS eShop Games:
SpeedX 3D - $3.99
Race through endless tunnels with hypnotic graphics and electronic music. A first-person view and 3D effects immerse the player in the game world. Play through four game modes, including an endless mode that lets you see how far you can go without losing concentration.
Outdoors Unleashed: Africa 3D - $3.99
Experience 35 missions of arcade hunting excitement, taking on over 15 different animals. Use over 30 weapons and hunting accessories to fight for high scores and take down the big game.
Virtual Console:
Toki Tori - $3.99
In this Game Boy Color classic, you play the role of Toki Tori, a yellow chicken tasked with rescuing his kidnapped brothers' and sisters' eggs. Using various power-ups, you navigate trap-filled levels to collect the eggs before time runs out.
DSiWare Games:
Escape the Virus: Shoot'em Up - $1.99
Take on hordes of vicious viruses in two different modes, including a shooter mode and a territory mode where you protect certain zones and keep them clear of enemies. Take advantage of bonus items and power-ups to take down the viruses.
3DS Demos:
Theatrhythm Final Fantasy
Tap and slide your stylus to the rhythm of music from the Final Fantasy series. Our Nate Andrews gave the game a 9, so if you haven't already bought the game you should check out the demo to see what all the fuss is about.