We're jumping for joy over these updates!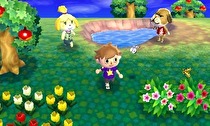 Animal Crossing: Jump Out will feature the ability to become mayor and customize roofs, doors, fences and posts according to the latest issue of Famitsu.
The Able sisters will be returning to Animal Crossing with their clothing store. The museum will also be returning but with more fish and fossils to discover as well as an exhibition room and a museum shop. There will also be new stores such as a thrift store run by Lisa the alpaca, a shoe store, a store that sells miscellaneous items, and a gardening store that appears to be run by a sloth. The gardening store will sell seeds and flowers. As was previously confirmed, a shopping mall will be included in the game as well.
Tom Nook is coming back with Raccoon Housing. He will provide a tent when the game begins and players will need to upgrade their homes from there. As the houses are upgraded players will be able to decorate their homes with furniture. Some of these sets will be new furniture sets including a mermaid set. As players upgrade their houses they can decide on which parts to upgrade which in turn change the house's appearance.
Animal Crossing: Jump Out will be released November 2012 in Japan for the Nintendo 3DS.