Grab you very own Keldeo this fall.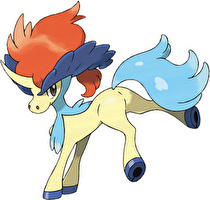 Fans of the Pokémon series can download a special Keldeo to their Black and White games, game retailer GameStop announced. The offer will be available at GameStop stores from August 27 through October 6.
This Keldeo will be able to learn the special move 'Sacred Sword,' which will allow it to transform into its alternate form. The move can be learned when Keldeo is transferred to Black 2 and White 2 or if players take it to the Moor of Icirrus in their Black or White game.
The offer is very similar to the one offered in Japan currently. No additional information on international dates and offers have been revealed at this time.