Ghostlight has plenty of news for European 3DS owners.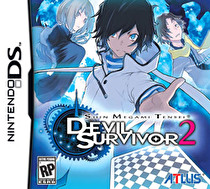 Shin Megami Tensei: Devil Survivor 2, Shin Megami Tensei: Devil Survivor Overclocked, and the recently announced Crash City Mayhem are all coming closer to being released in Europe.
In a recent blog post, Ghostlight gave a briefing on several of its current projects. Included was an update on both Devil Survivor 2 and Devil Survivor Overclocked, which noted that "excellent progress" is being made in the effort to release the games in Europe. Both games originally debuted in Japan in 2011.
The company also announced that it is releasing Crash City Mayhem. The game, known as Runabout 3D: Drive Impossible in Japan, is the next entry in the Runabout series. Players are given the task of picking up and delivering items across a large cityscape while driving a variety of vehicles and causing massive amounts of destruction.
Ghostlight is waiting on approval for all three games, and will announce release dates once the process is complete.