Wario Land has finally made its way to North America, and it is joined by a slew of other games.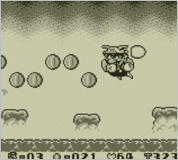 8-Bit Summer continues this week with two 3DS Virtual Console games as well as two eShop games, a DSiWare title, and even a Wii Virtual Console game. It has been quite a month of downloadable games, and Nintendo seems to be showing no signs of slowing down.
3DS eShop Games:
Planet Crashers - $9.99
As a cadet from the Planet Crashers Academy, you are given one of biggest tasks imaginable, stop an unknown evil from putting out the sun. On your journey you will explore the universe as you battle through dungeons, level-up, and customize your character. Our review will be coming soon, so look forward to it.
Dot Runner: Complete Edition - $4.99
In this dot-eating action game, you will race through dungeons and attempt to eat the dots that appear before time runs out. The touch screen offers a top-down perspective of the dungeon, while the top screen is in first person.
DSiWare Games:
Decathlon 2012 - $4.99
Compete for a gold medal by partaking in all 10 of the games included in Decathlon 2012. Run, jump, and throw your way to victory as you make use of the touch screen on the DS to control your character.
3DS Virtual Console Games:
Wario Land: Super Mario Land 3 - $3.99
After being defeated by Mario, Wario heads to Kitchen Island to steal a golden statue of Princess Toadstool. Smash through objects and collect various power-ups throughout the game. Don't forget to collect treasure during the game, so your castle at the end will be bigger.
Mole Mania - $2.99
Partake in challenging puzzles as you join Muddy Mole in his attempt to defeat the farmer, Jinbe. Push, pull, and throw black balls to defeat enemies while you tunnel your way through the levels so that you can reunite Muddy Mole with his family.
Wii Virtual Console Games:
WORLD HEROES PERFECT - 900 Wii Points
This fourth entry in the World Heroes series features 16 characters that are vying to become the world's strongest. Make use of weak, middle, and strong attacks as well as new game features like the hero gauge, extra attacks and guard breaker attacks.
eShop Sales:
Super Mario Bros. - $3.99 (normally $4.99)
Join Mario and Luigi on their adventure into the Mushroom Kingdom to save the Mushroom Princess. You can get the game now at 20% off, although you may want to act soon as the deal ends on Wednesday, August 1.
Colors! 3D - $3.99 (normally $6.99)
Colors 3D released on the eShop earlier this year and gave many artists the tools they needed to create 3D pictures. Read our review here and decide if you are interested in picking it up. The game will be a little more than 50% off starting Friday at 12 p.m. ET/9 a.m PT and ending at 12 a.m. ET/9 p.m. PT Sunday night.