Grab the WiiWare game now for 150 coins.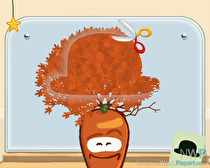 Bonsai Barber is available as a Club Nintendo downloadable reward for 150 coins until August 5.
Replacing Mario Tennis 64, Bonsai Barber, developed by Zoonami, places players in control of cutting, styling, and coloring the "hair" of various vegetables. Get medals and rewards while you unlock different hairdos to use.
The other Club Nintendo downloadable reward is currently Starship Defense, which will be available until July 29. We can expect another game to take its place around that time.