Hit up the eShop if you like sparkly snapshots of you and your friends.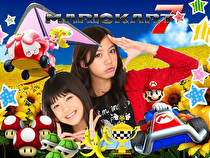 Sparkle Snapshots 3D is coming to the Nintendo 3DS eShop in Europe this week on July 12.
A sequel to Sparkle Snapshots on DSiWare in 2009, Sparkle Snapshots 3D allows users to decorate their 2D photos with 3D frames, backgrounds and original 3D stamps. Users will be able to share their creations with their friends wirelessly. The game will also feature Mario-themed DLC including a Mario Core Set as well as a Mario Kart 7 set.
Sparkle Snapshots 3D was released in Japan late last year as Tobidasu Purikura Kiradeco Revolution in Japan. To read more about the game, be sure to check out Daan Koopman's impressions.
Sparkle Snapshots 3D will be €5 and £4.50 with the DLC selling for €1 and £0.90 each.