It's time to get even more Zen.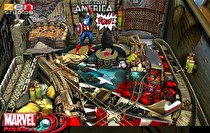 This week for the Nintendo downloadable platform brings us two new DSiWare games, two new eShop games, one new 3DS demo, and a sale on a 3DS favorite.
3DS eShop Games:
Marvel Pinball 3D - $7.99
This game is the Zen Studios followup to Zen Pinball 3D, featuring four tables based on Marvel properties. Included in the game are tables based on Iron Man, Blade, Fantastic Four, and Captain America. As with Zen Pinball 3D, Marvel Pinball 3D features online leaderboards to compare your scores with your friends. Check out Patrick's review here.
Bomb Monkey - $4.99
Bomb Monkey, a game that requires that you hold your 3DS sideways (book-style) is a block-dropping puzzle game with multiple game modes and versus and cooperative play on the same 3DS. Dropping blocks and bombs is crucial to victory in this arcade-style puzzler. Neal reviewed the game; take a look.
DSiWare Games:
Flip the Core - $1.99
Flip the Core is an unusual take on the side-scrolling shoot-em-up that allows the player to flip the viewpoint that can help avoid enemies or find new paths forward. The game contains multiple weapons and power-ups and a unique art style.
Escape the Virus: Swarm Survival - $1.99
This game plays like a take on the classic game of Snake, as you navigate a top-down environment to collect pieces of DNA to add to your tail. The longer the tail, the higher the score, but the easier it is to run into an enemy and lose.
3DS Game Demos:
Kingdom Hearts: Dream Drop Distance - FREE
This game was actually released last week during the Nintendo Direct event, but it is listed in this week's press release.
Rhythm Thief & the Emperor's Treasure - FREE This rhythm action game is headed to North America on July 10, 2012, but you can check out a free demo today. Even better, Japan Correspondant Danny Bivens reviewed the game in March.
eShop Sales:
VVVVVV - $4.99
Down from it's usual price of $7.99, this gravity-bending puzzle-platformer with a retro flair is on sale from Friday June 29 at 9 am (PDT) through Sunday July 1 at 9 pm (PDT). If you've been waiting to check out VVVVVV, there's never been a better time. Neal reviewed it upon release last December.