Four tables from Zen Studios' Marvel collection are coming to 3DS.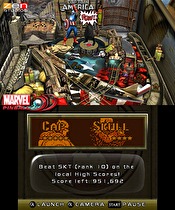 Marvel Pinball 3D is releasing this Thursday on the 3DS eShop in North America and Europe for $7.99 and €7.00 respectively.
The second eShop game from Zen Studios, Marvel Pinball 3D adds four new tables starring the likes of Iron Man, Blade, Captain America, and the Fantastic Four.
Zen Studios is still expecting to release DLC for Zen Pinball 3D and Marvel Pinball 3D, though there are not any firm plans set. According to Mel Kirk of Zen Studios during our interview at E3 2012, they have the capability to do it, but they are still working out their strategy for it.