Possibly the last console bundle for the Wii will arrive this summer.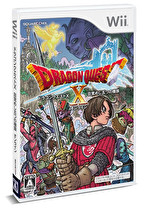 A Dragon Quest X Wii hardware bundle is coming to Japan on August 2. The bundle will include a black Wii, black Classic Controller Pro, Wii USB memory card, a 1,000 yen Nintendo prepaid card, and a copy of Dragon Quest X: Mesameshi Itsutsu no Shuzoku. While this has yet to be formally announced by Nintendo or Square Enix, Nintendo's recently updated release schedule revealed this information earlier today. The bundle is speculated to cost around 30,000 yen.
Be sure to check out the pictures below of box art below of the game with USB memory card and the stand alone copy.