Square Enix is set to show off the battle system of their upcoming RPG.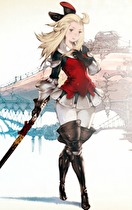 A new demo for Bravely Default: Flying Fairy will be arriving soon on the Nintendo 3DS eShop in Japan.
While there is no specific release date for the demo, it will feature something missing from all of the other demos: combat. The game features turn-based combat and a job system similar to past Final Fantasy games. Some of the different kind of jobs in the game are white and black mages, knights, and monks.
Bravely Default: Flying Fairy is set to release in Japan later this year. For more information about the game, be sure to read my impressions of the first and second eShop demos.