The wait is finally over.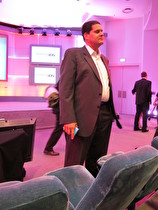 Fire Emblem: Awakening is due for a North American release, as reported by Nintendo President Reggie Fils-Aime.
He mistakenly revealed the localization in conversation with Kotaku's Stephen Totilo immediately after the Wednesday 3DS software showcase, and only realized the information wasn't in the press kit afterwards.
No date was revealed about the upcoming title, but its release is now confirmed. The title came out in Japan on April 19 this year.
UPDATE: Nintendo's Twitter and Facebook posted the following confirmation: "We are excited to confirm a NEW game announcement coming to the US: the new 3DS Fire Emblem! More info to come."