The Pedometer accessory will use the infrared port on the Wii U GamePad to transfer data.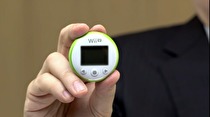 Nintendo's next fitness management game will not only use the Balance Board and Wii U GamePad, but also feature a pedometer accessory. The Pedometer will be able to count steps, detect changes in altitude, estimate calories burned and activity, and generally track your physical activity when you're not playing the game. The pedometer will transfer all of this data to the game using the infrared transceiver port on the Wii U GamePad.

Nintendo did not detail exactly what how they would sell Wii Fit U, especially considering that many people already own a Balance Boad accessory from previous games, but the Pedometer is likely to be included with the software.