The 3DS iteration of Paper Mario will be available in stores and for download this year.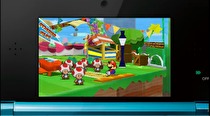 Paper Mario Sticker Star will be released for Nintendo 3DS this holiday and will be available from both stores and through the eShop.
The featured stickers are scattered throughout the game world and can be peeled off and collected. The primary purpose of the stickers is for attacks in the turn-based battles. Finding a hammer sticker gives you a hammer to use for a turn, while a fire flower will let you throw fireballs for a limited time. Stickers are also used to uncover hidden areas and helpful items that help you to progress.
The graphical style is very much the same as the previous game in the series, and it looks like it's possible to change the viewing angle to find hidden areas in much the same way.