Ubisoft demonstrated how a player using a Wii U GamePad and another using a traditional controller can cooperate.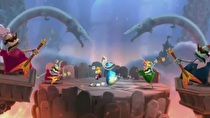 Ubisoft has officially revealed Rayman Legends for the Wii U. They also took the opportunity at their E3 press conference to show off the game using early Wii U Dev Kits.
Ubisoft specifically showed the potential for asymmetrical cooperative play between a player using the Wii U GamePad and another using the Wii U Pro Controller. Apparently, a player using the Wii U GamePad controls the game through the touch screen and has a special character who flies around the TV screen. This special character can interact in the game world in a way that reflects how the Wii U GamePad player swipes and taps on their personal controller screen. In this way, the GamePad player can interact with the game by swiping/slicing through ropes and vines, or by pull back on a slingshot that the other, traditionally-controlled character is sitting in. There are even certain platforms in the game that can be controlled by tilting the Wii U GamePad controller.
Ubisoft also showed off a special level of the game where the traditional characters had to run through a rapidly scrolling level. But this level was played like a rhythm game by the Wii U GamePad player, who tapped on the environment through the screen on the Wii U GamePad controller (in a method eminiscent of Nintendo's Elite Beat Agents) to clear obstacles and create paths that helped the other characters progress at a fast enough pace through the level.
Ubisoft showed off the game with just two players, but said the final game would support up to 5 players, presumably with one player using the Wii U GamePad and four players using traditional controllers.