Get ready to beat your friends up on your 3DS.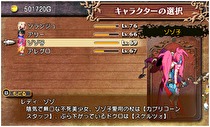 Today Atlus announced they will be releasing Code of Princess, an "action RPG brawler" for Nintendo 3DS this fall in North America.
Hearkening back to classic beat'em ups like Streets of Rage, Code of Princess allows gamers to battle with or against each other in both local and online multiplayer modes. They can also level their characters RPG-style, while using high-action elements such as the ability to chain attacks together.
As a pre-order bonus, fans will receive the Code of Princess Sound & Visual Book, which features the artwork of designer Kinu Nishimura and music from the ACE team.
A specific release date has yet to be announced.