Nintendo Power's cover story goes over MercurySteam's 3DS debut.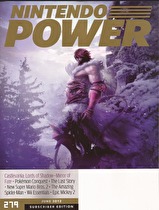 Castlevania: Lords of Shadow - Mirror of Fate, a new entry in the Castlevania series made by Lords of Shadow developer MecurySteam, is coming to 3DS.
The game was originally revealed in a confirmed rumor last week, and now there is no room for doubt. Mirror of Fate appears to be a side-scrolling game that shares graphical similarities to Sega's Shinobi 3DS title from last year. The camera might be more dynamic, though.
It stars Trevor Belmont, and players will use the character's version of the Combat Cross. The focus seems to be on combat, with a wide variety of abilities ranging from different secondary weapons and magic to grappling. There will be some form of RPG-esque gameplay, as players accrue experience points that can be used to unlock new combos.
Whether or not the game is more like Symphony of the Night or more like Super Castlevania IV is unknown, but from the early word, it seems like Mirror of Fate will have more in common with older, less exploration-focused Castlevania games.
The game will be playable at E3 2012.
Image courtesy of GoNintendo