The game receives a patch in Japan, but users may have a hard time finding it.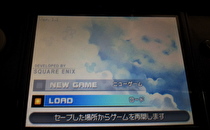 A patch for Kingdom Hearts 3D: Dream Drop Distance is now available to download for players in Japan.
However, at the moment, the patch does not have a prominent place on the eShop and may be difficult to find for users unaware of its availability. Owners of the game can follow a link to the eShop after scanning a QR code (included below) that was made available on the official Japanese Kingdom Hearts site. Users can also find the patch by searching for "kingdom hearts" in the eShop search bar.
The patch, which was announced at the most recent Nintendo Direct and released on May 25 in Japan, updates the game to version 1.1 and fixes various bugs. Kingdom Hearts 3D: Dream Drop Distance releases in Europe on July 20 and in North America on July 31.
Thanks to Daan Koopman for the screenshot containing the "Ver. 1.1" text.