The sequel to the cult action game may see a release soon.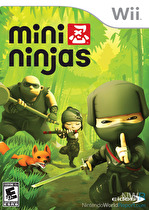 Square-Enix's Mini-Ninjas is set to have a sequel released soon, a listing on the Australian Classification Board confirms.
Named Mini-Ninjas: Hiro's Adventure, the game will be developed by IO Interactive, who also developed the original game. The only detail about the game is that it has been rated PG for Mild Violence. No system was mentioned, however the original Mini-Ninjas was released on all major platforms, including the Wii and DS.