So, we've definitely got Assassin's Creed III, Avengers, Killer Freaks, Rayman Legends, Ghost Recon...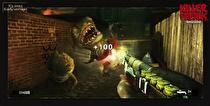 Ubisoft is expecting to release seven Wii U games by the end of March 2013, according to President Yves Guillemot at their annual Earnings Presentation.
The games will consist of two core games and five casual titles. We currently know of eight Ubisoft titles for the system, listed below:
Assassin's Creed III
Killer Freaks from Outer Space
Ghost Recon Online
Avengers: Battle for Earth
Rayman Legends
A new Rabbids title (Rabbids Rumble?)
A sports title
Just Dance
The two core titles are likely Assassin's Creed III and either Killer Freaks or Ghost Recon. It's likely that one of these games is delayed (Killer Freaks?) or one of the tentatively announced ones (the sports title, which was announced at E3 2011) doesn't exist anymore.
Ubisoft is prepping the reveal of an unannounced Q4 2012 title at E3 2012, though it is unknown if it will be on a Nintendo system.