Lots of extra goodies will come in this box set.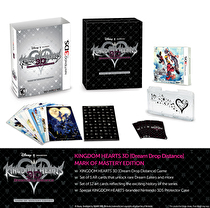 When Kingdom Hearts 3D launches on July 31 in North America, a Mark of Mastery Edition will be available as well, according to Square Enix.
This special edition of the game includes a Kingdom Hearts magnetic box, a 3DS skin cover, 12 art cards, five AR cards, and of course, a copy of the game itself. The AR cards can be used to unlock rare dream eaters, such as Meowjesty, Frootz Cat, and Kab Kannon.
Kingdom Hearts 3D will be released on July 31. The Mark of Mastery edition of the game will be available for $54.99.