Square Enix is including a special code for those that purchase the bundle in Japan.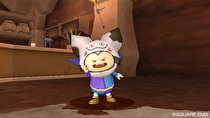 Square Enix will offer an special item code for a Momon cap to those that purchase the Wii version of Dragon Quest X bundle with the 16 GB USB flash drive. The bundle set will retail for 8,980 yen (around $113) while the stand alone version retails for 6,980 yen (roughly $87). Dragon Quest X requires at least a 16 GB USB memory stick to play the game.
Dragon Quest X launches on Thursday, August 2 in Japan for the Wii. There is currently no concrete information regarding the Wii U release or release dates for territories other than Japan.