The game's director admits the original script relied heavily on Japanese cultures and phrases.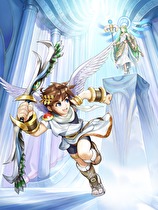 Kid Icarus: Uprising's acclaimed script may have originally spawned from Director Masahiro Sakurai's pen, but Nintendo of America's localization team was allowed a lot of flexibility, according to Sakurai in an interview with IGN.
"[The Japanese script] is something that takes advantage of the nuances of Japanese conversation, and not all of it works directly in English," Sakurai said. "We had NOA handle the localization, and I told them to change the meaning and content as much as they want - that I wanted conversations that sound natural and enjoyable to a native speaker."
In Nintendo's previous dialogue-heavy game, Metroid: Other M, Director Yoshio Sakamoto had a heavy influence in the game's localization, or at the very least, the crucial selection of the voice actress for star Samus Aran. It appears that Sakurai's method of letting Nintendo of America's Treehouse localization staff run free worked out better than Other M's divisive story.
Sakurai also confirmed that he would likely not do a sequel to Kid Icarus: Uprising in the same interview.