Various designs are considered, including an alternative Wii U controller design.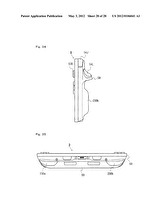 A set of patent applications, published on May 3, detail a charging dock for the Wii U controller, give a new look at the Zapper attachment, and depict an alternative controller design.
One design of the Zapper looks much as it did when it was shown in a trailer at its reveal at last year's E3. Essentially, it is designed like the Wii Zapper, with a dock for the Wii U controller rather than the Wii Remote, and with an integrated Nunchuk controller, image sensor, and front trigger. As an alternative to a clip-in design, a set of screws may be included to increase stability of the screen. A second design changes the hand support structure to be relatively square, taking up less room and making it look less like a gun. The application describes various options for button configurations, and notes that the front tip could include a trigger, a Wii Remote-like infrared camera or a more fully functional camera.
The charging dock not only serves to charge the controller, but keeps the screen upright so that its display and integrated sensor bar can be used (the main sensor bar and controller sensor bar can be turned on and off independently so as to not confuse the Wii Remote). The docking mechanism includes a groove and a "rotating member" to help securely dock the controller even if it isn't completely aligned at first. Though the controller clearly included charging terminals at E3, Nintendo previously would not confirm the existence of the dock.
Finally, an alternative design for the Wii U controller is shown. This version includes hand grips, but otherwise is the same as previous designs.
Except for the attachment descriptions, the patent applications largely repeat the information included in previous Wii U filings. This set of four applications were filed in August of last year in the US. They were originally filed in May of last year in Japan, so they do not contain any information on more recently revealed technology, such as NFC capability. See the gallery below for the designs.