Exchange data and unlock some bonus content.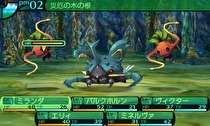 Etrian Odyssey IV will make use of QR codes to exchange data with other players, as well as unlock additional content.
In the game, guild cards will keep track of various statistics, such as how many steps your character takes and what monsters you have defeated. Through StreetPass, you are able to exchange this data with other players, or by using a QR code.
Other QR codes will be uploaded to the game's official website at a later date. When they are scanned, they will unlock additional content. New quests and items will become available through this method.
Etrian Odyssey IV launches in Japan on July 5. Currently there is no release date scheduled for North America or Europe.