If you were still waiting for Pikmin 2, we've got some great news for you.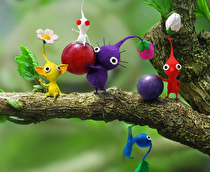 New Play Control! Pikmin 2 is finally coming to Wii in North America this June, according to the May issue of Nintendo Power. A scanned copy of the page was posted at Nintendo Life today.
The title, originally released in September 2004 on GameCube, has been available in Europe for nearly three years and features revamped controls using the Wii Remote. Although New Play Control! Pikmin was released in March 2009, the sequel has remained unavailable to Wii owners in North America.
A new Pikmin game, slated for Wii U, will be shown at E3 2012 in June. It is rumored to come out for the system's launch.
Our own Jonathan Metts reviewed the GameCube title on its original release.