DLC is still coming, along with another game.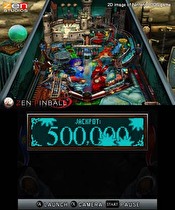 Zen Pinball 3D DLC is still on its way to the Nintendo 3DS, according to Neil Sorens in an interview with Revogamers.
In Janurary, Zen Studios claimed that DLC was expected to arrive within two-to-three months. However, now that we are nearing the end of April and still haven't received DLC, Sorens has said "We're just waiting for the right time to add the support for add-on content for Zen Pinball. It will be definitely available this year."
The DLC may be arriving a bit later than initially expected, but Zen Studios also plans on releasing a new pinball game. Marvel Pinball will release for the Nintendo 3DS and Wii U. Marvel Pinball was confirmed to be appearing on the Wii U last summer. Marvel Pinball is also expected to support DLC.
When asked about Pinball games on Wii U, Sorens said "Well, the new Wii U controller is… very good for pinball, actually. I can't talk to you much more than that right now but yeah, I agree that it would be pretty cool for pinball *laughs*."
Neither the DLC or Marvel Pinball have release dates. Read a review of Zen Pinball 3D here.