A true sequel to 2006's 2D revival game is coming, sooner than you think!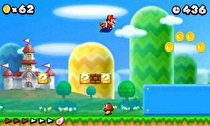 New Super Mario Bros. 2 is coming to 3DS in North America, Europe, and Japan in August, Satoru Iwata revealed during Nintendo Direct today. Nintendo of America confirmed the North American release on Twitter shortly after. Nintendo of Europe confirmed it during their own Nintendo Direct the several hours later.
The brief imagery shown featured Raccoon Mario, with a full flying ability just like in Super Mario Bros 3 complete with a P-charge bar in the lower left corner. The screenshots also showed climbable spider webs, a sparkling golden Mario charging through a castle level, and a level crowded with shiny golden enemies.