3DS owners can get their hands on a new premium stylus.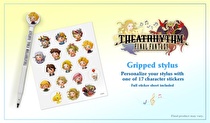 A gripped stylus and 17 character stickers will be offered to North American pre-order customers of Theatrhythm Final Fantasy, as stated by Square Enix in a press release.
The stylus itself is white with a black tip and features the game title on its side, as well as a circular extension at the top, customizable using stickers from an included sheet. The sticker sheet itself includes "the Final Fantasy franchise's most popular characters," says Square Enix, such as Squall, Chocobo, and Cloud.
Theatrhythm is set for a July 3 North American release on 3DS.