In a recent interview with Nintendo Power, Hiroyuki Takahashi explained why Mario Tennis Open lacks RPG elements.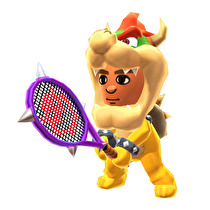 In a recent issue of Nintendo Power, Hiroyuki Takahashi, the producer and lead designer of Mario Tennis Open, explained why the 3DS title lacks the RPG elements of its handheld predecessors.
When asked why Mario Tennis Open lacked an RPG-style single-player mode similar to the ones included in Mario Tennis for the Game Boy Color and Mario Tennis: Power Tour for the Game Boy Advance, Takahashi replied with, "This version may be for a handheld system, but we approached it like a console title. With aspects like download matches and online matches made possible by the hardware, the game has a feature set more similar to console games."
Furthermore, he added that the addition of Mii characters also contributed to the absence of RPG elements, saying "Another reason is that the game's cast includes Mii characters in addition to characters from the Mario family, which are difficult to work into an [RPG] scenario. It didn't feel right to have already-existent Mii characters appear in an original storyline."
Takahashi went on to say that "there are RPG-like elements in the form of costumes," which he noted allow players to customize their characters and change their abilities.