The original 3DS RPG from Square Enix will have many resolutions to its story.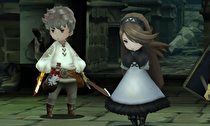 Square Enix's Bravely Default: Flying Fairy will have multiple endings, producer Tomoya Asano told in an interview with Famitsu.
While the game will have one set storyline, it will follow multiple characters across their journey and gain new jobs. Of the four main characters, two have already been revealed.
Bravely Default: Flying Fairy was originally announced at the Nintendo 3DS Conference held in Japan last year. Since its announcement, several demos of the game have been released along with AR cards.