The quick-selling toys are available at select locations.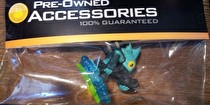 Select GameStop locations are now accepting trade-ins of Skylanders figures, according to Pixelitis.
The site reports that they received an internal GameStop document from a trusted source, which revealed the pricing policy on this new trade-in offer. Figures being traded in are said to be worth anywhere between $2 to $8, depending on their rarity. The figures will then be sold in the store from prices anywhere up to $20.
This GameStop offer is not available at all locations, so you may want to call ahead and see if you are able to trade-in your old or unused Skylanders figures.