While always planned for 3DS, it started development before development kits were even available.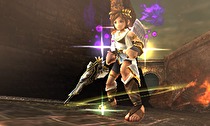 Kid Icarus: Uprising has been in development so long that Masahiro Sakurai and Project Sora started working on it on PC and Wii before Project Sora was even officially formed, according to the latest Iwata Asks on the game.
"At first we didn't have the Nintendo 3DS development kit, so we started making it on a PC. Oh, and for a while we were using a Wii to make it!" Sakurai said and followed it up with an Iwata Asks-staple laugh.
That places the start of development at around 2008, meaning that it was worked on for about four years. Check below for some prototype video of the air and land battles, and read the full Iwata Asks for more details.