Not one, but two Epic Mickey games will be hitting stores this year.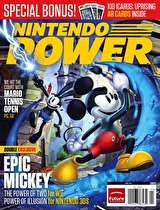 Epic Mickey: Power of Illusion has been officially announced for 3DS in issue 277 of Nintendo Power.
Officially, only Epic Mickey 2: The Power of Two had been revealed until now, but the 3DS version will be joining it as a completely new game. Developed by Dreamrift (who worked on Monster Tale previously), the title is known to be completely different from the Wii game, but little else will be revealed until the actual issue hits shelves.