The cartoon show is getting its own game, developed by WayForward.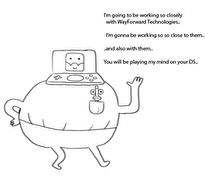 Adventure Time, developed by WayForward, is scheduled to hit shelves as a Nintendo DS game later this year.
The cartoon show's creator revealed the news last night through Twitter, along with some humorous pictures. He only revealed that the title would be coming later this year, so we will have to wait for a more definitive release date.
Adventure Time is a critically acclaimed cartoon series aired on Cartoon Network.