Relive the Game Gear with this week's Nintendo Download.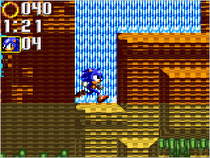 Nintendo unleashed three Game Gear titles onto the 3DS eShop, as well as a DSiWare game and a Wii Virtual Console classic in this week's Nintendo Download.
The three previously announced Game Gear titles finally made their way to the service. Sonic the Hedgehog: Triple Trouble lets players join Sonic and Tails in another Sonic adventure. The game can be downloaded for $4.99.
Shinobi, also for the Game Gear, is full of side-scrolling ninja action. You can venture forth to defeat the evil force capturing the citizens of Neo City for $3.99.
The last Game Gear game made available this week is Dragon Crystal. Fight off monsters while you make your way through dungeons in this turn-based RPG. The game is available for $2.99.
The DSiWare game, Pirates Assault, is available to DSi and 3DS owners. This pirate-themed tower defense game can be downloaded for $1.99.
The Wii Virtual Console saw the release of Samurai Showdown IV: Amakusa's Revenge. This fourth installment in the Samurai Showdown series features 17 different samurai as well as multiple endings. The game is available now for 900 Wii Points.