Is it a secret Wii U feature or just a Wii idea that didn't pan out?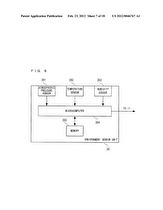 Nintendo is considering an environment sensor unit that could interface with the Wii, a recent patent application reveals.
The filing reveals a number of possible applications. The sensor data can be used to predict the weather, estimate the time of year, and detect which room in which the device is located. The sensor readings can also be used to alter in-game content.
The unit includes an atmospheric pressure sensor, a temperature sensor, and a humidity sensor, as well as a dedicated microcomputer and memory. The latter components allow the unit to run the sensors at periodic intervals, while otherwise remaining in sleep mode so that data can continue to be collected and transferred later. The sensor reading history can be plotted on-screen. This information can be shared with others, and graphs comparing different locations can be shown.
Atmospheric pressure sensor data can be used to predict weather (a decrease in pressure is associated with rain). This data can also be sent to a server, where, once corrected for elevation based on the location of the system, it can be used to generate a large-scale map of atmospheric pressure known as an isobar chart.
The temperature and humidity sensors can detect patterns over time, which can infer whether the room is occupied (an example is given where an office runs the air conditioner during the day on weekdays). This information can be send to other users to tell them if a person may be present. Over a longer period of time, this sensor data can be used to infer the time of year. From this information, in-game environments can be changed to match the real-life season or weather.
A number of possible applications are mentioned. The system can correlate sensor readings with various historical data to generate indices such as beer index, an influenza epidemic index, a comfort or discomfort index, and a laundry index. Additionally, the system can generate recommendations, such as what clothes should be worn that day.
Furthermore, the unit can be equipped with a radio or an infrared communication system, which would allow it to control other devices, such as an air conditioner. The application also notes that the Wii Sensor Bar's infrared lights could be used for such communication.
The patent application also explores the combination of other sensors, including a smell sensor, dust sensor, human sensor, camera, illuminance sensor, and an ultraviolet sensor. The latter sensors can be used to infer sunlight information.
Nintendo originally filed for the US patent on August 12, 2011, following the Japanese filing on August 20, 2010. The inventors are listed as Yasuyuki Shimohata, Ryoji Kuroda, Kazuhiro Hosoi, and Takanori Okamura. While it is not clear how Nintendo plans to use the technology, they note that it could be applied to fixed console systems, PCs, phones, PDAs, and hand-held game systems. Some recent cell phones include such sensors.