Square Enix is starting a series of demos for the new title starting this week.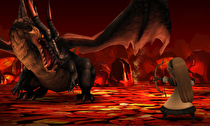 Square Enix is releasing a demo version of Bravely Default: Flying Fairy on the eShop this week on February 29. The demo, which is the first in a series of demos, is titled "Bravely Default Demo Vol. 1 Crystal Maiden Volume", and contains a new AR movie focusing on the heroine Anies. Another segment of the demo explores a more traditional experience that allows the player to directly control a game character as well as experience the game's "visual concept."
Bravely Default is set to release on the Nintendo 3DS in 2012 in Japan.