The Nintendo president visits 3DS's in Japan!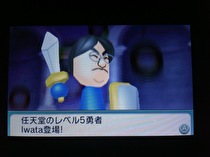 Nintendo sent a special gold pants version of Satoru Iwata's Mii to Nintendo 3DS owners in Japan this morning, February 26. Users were sent a message in the Notifications section informing them that someone has arrived in the Mii Plaza. After going into the Mii Plaza, the gold pant-donned Satoru Iwata introduces himself letting you know that his most recently played game is Mario Kart 7. This special Mii has all of the puzzle pieces in Puzzle Swap and is level 5 in Find Mii.
Nintendo 3DS users who are looking to share the special Iwata Mii (or any gold pants Mii) via QR code should note that sending the Mii to the Mii Studio causes the character to no longer be available in the Mii Plaza. He cannot be shared via QR code, and may not be recoverable if deleted.
There is no word if any special Miis will be delivered to 3DS users outside of Japan. Previously, gold pants Miis, including Iwata, were distributed via StreetPass at E3 2011. February 26, the day Iwata's Mii was sent, marks the one year anniversary of the 3DS in Japan.