In the past week, this n-Space-developed game has been on hold, delayed until May, and now, possibly hitting shelves in March.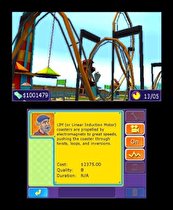 RollerCoaster Tycoon 3D, published by Atari and developed by n-Space, is due out on March 13, according to a Nintendo release list.
The saga of this game has gotten quite confusing. It was initially announced last year, slated for an early 2012 release. A few weeks ago, we confirmed with Atari that the game was on hold. Then, last week, it was listed for a May 22 release on various retailer sites.
While retailers still list it as a May release, the aforementioned Nintendo release list, which popped up on their web site yesterday, lists a March 13 release.
We've contacted Atari to get a straight answer about the game's release, and will update this article if/when we get a response.
Thanks to Snowyday for the tip!