Also, a Nintendogs + Cats demo is out today.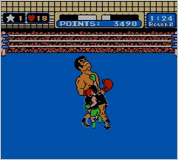 Punch-Out and Super Mario Bros. are coming out on the 3DS Virtual Console in Europe on March 1. Both are the first NES games to get a full release on the eShop in Europe. Super Mario Bros. is an Ambassador game, and came out in North America last week for $5.
A Nintendogs + Cats demo is also out on the European eShop today, according to a press release from Nintendo. Additionally, Dillon's Rolling Western is out on eShop. Its release date was revealed during today's Nintendo Direct, and it is available in every region in a surprise manner.
Other Virtual Console releases were also revealed, including Dr. Mario for Game Boy, and the Game Gear titles, both set for March releases. Also, Toki Tori was listed as a Q2 2012 release.
Lastly, other 3DS Download software was listed for Q2 releases, including SpeedThru: Potzol's Puzzle, Fun! Fun! Minigolf TOUCH!, Art of Balance TOUCH!, Colors! 3D, Mutant Mudds, Picross e, and Marvel Pinball 3D.