The scary spirit-snapping saga continues.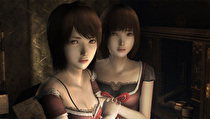 The updated remake of Project Zero: Crimson Butterfly (known as Fatal Frame in the USA), the second game in the ghostly photography series, has been reconfirmed for a release on Nintendo Wii.
The game, first announced early last year, will feature updated graphics and character models over its original PS2 and Xbox counterpart, as well as fluid aiming controls with the help of the Wii Remote.
In the original incarnation of the game, the story follows Mio and Mayu, two twin sisters who find themselves drawn to a derelict old village in the woods. When Mayu goes missing, it's up to her sister to search the abandoned hallways and alleys, fighting off vengeful spirits with a ghost-busting camera that wounds the paranormal when pictures are snapped. Players slowly piece together the grisly story of the village's dark history and uncover plenty of horrific secrets that perhaps were better left unknown.
The game is set to launch in Japan on June 28 this year for a retail price of 6,800 yen ($85), with a release in Europe under the name Project Zero 2: Wii Edition coming at a yet unknown date. We'll have more details as they surface.