Japanese gamers get quite a bit in this special anniversary bundle.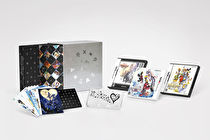 An image detailing the contents of the Japanese 10th anniversary Kingdom Hearts bundle was revealed by Square Enix.
In anticipation of both the Kingdom Hearts 10th anniversary and Kingdom Hearts 3D: Dream Drop Distance, Square Enix is releasing a 10th anniversary Kingdom Hearts box. The box includes the new game, as well as the two DS titles, Kingdom Hearts 358/2 Days and Kingdom Hearts Re:Coded. The bundle will also include a protective cover for your 3DS, as well as 12 postcards.
Kingdom Hearts 3D: Dream Drop Distance releases in Japan on March 29. Currently the game is scheduled to come to North America at some point during 2012, but no official date has been set.