A world name, character information, and some dream eater information was revealed.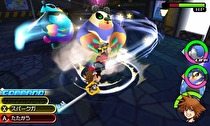 Kingdom Hearts 3D information regarding a world name, character details, and Dream Eaters was revealed in the latest issue of V-Jump.
The previously revealed Tron world is now titled The Grid. The world is based off of the recent Tron movie, Tron: Legacy, featuring the same characters and similar locales.
Previous Kingdom Hearts characters are also going to be making a return in this game. Organization members Axel, Zexion, and Lexaeus will all be returning, however, they will be appearing in a different form as Lea, Ienzo, and Aeleus respectively.
Finally details regarding Dream Eaters, creatures that aid you in battle, were revealed. Players will be able to create some Dream Eaters using recipes and Dream Pieces. Other Dream Eaters can be obtained through the use of an AR card. A special Kingdom Hearts 3D book retailing for 1150 yen will include one such AR card.