It looks like we will see more support from the company on 3DS.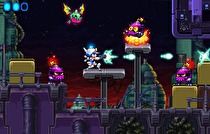 WayForward will be utilizing the 3DS's eShop as part of its handheld strategy, according to an interview with Gamasutra.
WayForward recently released Mighty Switch Force!, which received a good reception on the eShop. Previously the company supported Nintendo's downloadable services with other games such as Shantae Risky's Revenge and Mighty Flip Champs. It now appears that they will continue to develop games for the eShop service.
CEO John Beck said "When you have certain content that is available exclusively on dedicated gaming devices, it really helps to set that content apart. The eShop will be a major part of our strategy for handheld games going forward."
There is currently no word on what their next game will be, however, it can be assumed that it will be released on the eShop.