Some voice actors are already done.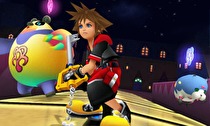 North American voice work for the upcoming Kingdom Hearts game, Kingdom Hearts 3D: Dream Drop Distance, is already underway according to some voice actors.
A report on khinsider.com revealed that Vincent Corazza, the voice of Zexion/Ienzo, had finished recording about 2 weeks ago.
Jesse David Corti, the voice actor of Neku from The World Ends with You, also revealed through Twitter that he is about done with recording for the game.

Corti said "we are about finished recording, parting is sweet sorrow...but there's always another game to play."
Kingdom Hearts 3D: Dream Drop Distance is currently scheduled to release in North America during 2012. However, the game is headed to Japanese stores on March 29.